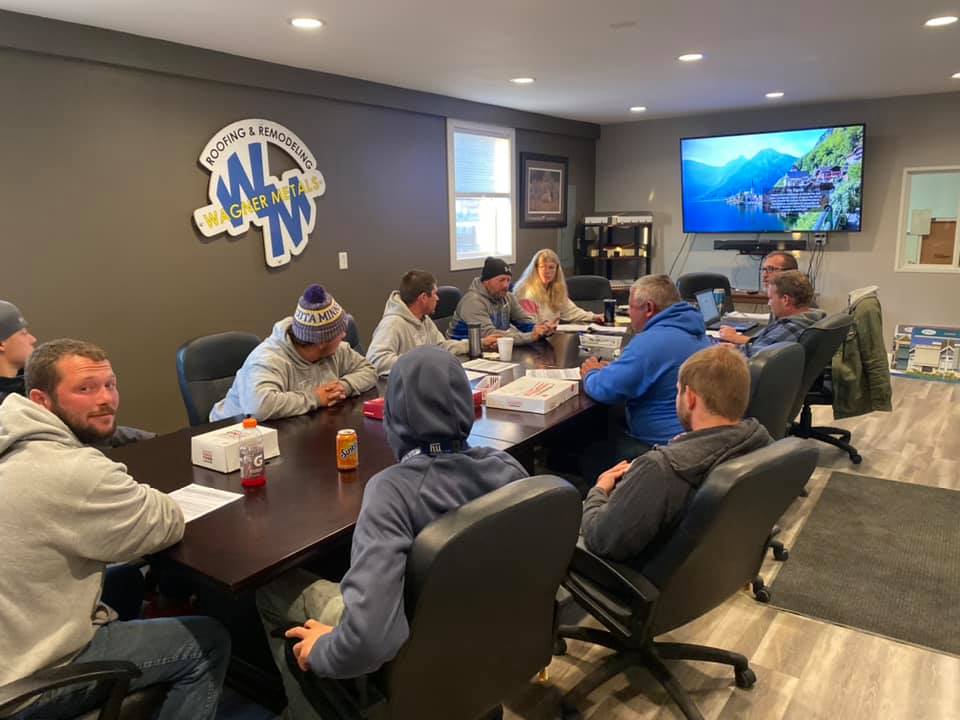 "The Team of Wagner Metal Roofing & Remodeling during their weekly safety briefing & training and discussing upcoming jobs."
Wagner Metals Roofing and Remodeling is a full-service construction company centrally located in Oakwood, OH. Brett Wagner created the company over 10-years ago to service the community with high-quality, ethical construction services. Wagner Metals Roofing and Remodeling just began with Brett Wagner and some friends working together in a shop. Since creating the business, Wagner and his team have flourished in numbers, services, and experience.
Northwest Ohio's Leading Metal Roofing Company
Wagner Metals Roofing and Remodeling is rated the leading metal roofing company with the number one metal roofing contractors in Ohio. Metal roofing contractors employed at the construction company are certified by the Metal Construction Association to ensure premium performance. Although this construction company specializes in metal roofing, they offer various other services. From steel roofing and siding services to home additions and remodels — this construction company can tackle any project at hand! Services offered at Wagner Metals Roofing and Remodeling apply to both residential construction and commercial-sized projects. No job is too small or too large for this team!

Video Link: https://www.youtube.com/embed/XLF8ZxBIaOc
Customer Education
One of the most important values Wagner Metals Roofing and Remodeling carries is making sure their customers are educated. They emphasize that each customer may not need a completely new roof, brand new windows, etc. Unfortunately, it's all too common to see contractors influence their customers to purchase a product or service they don't need. The contractors at this construction company strongly communicate that they aren't going to sell a customer on something they don't need or want. As Brett Wagner says, "It's not about creating customers for today, it's about creating customers for life."
Remaining budget-friendly is one of the top priorities at Wagner Metals Roofing and Remodeling. Wagner Metal Roofing and Remodeling would like to announce that they offer financing options for their services. No matter the project, customers can receive a service with a 12-month payment plan — same as cash! This dedicated company's goal is to deliver top-notch services at an affordable price.
The Wagner Metals Roofing and Remodeling Experience
The contractors at Wagner Metals Roofing and Remodeling go out of their way to guarantee each and every customer has an excellent experience. They treat their customers like family, just as they treat their employees. Each Wagner Metals customer will come out of their remodeling project educated and satisfied with their experience. Remodeling a home can be quite a hectic task, so this construction company wants to put your mind at ease. Remodeling doesn't need to be chaotic when you choose the right company for the job. For over 10-years, Wagner Metals Roofing and Remodeling has been providing services to the community. Their dedicated professionals will always create quality experiences and build valuable relationships for life with their customers.
Media Contact
Company Name: Wagner Metal Roofing & Remodeling
Contact Person: Carlos Pinto-Muriel
Email: Send Email
Phone: 765-396-2527
Address:11576 Road 191
City: Oakwood
State: Ohio
Country: United States
Website: https://wagnermetal.com/