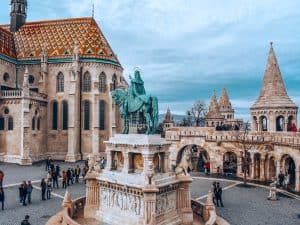 UK Fintech and stealth bank TransferWise notes that whether you're in Budapest, Bangkok or Pisco, you'll now be able to receive Hungarian forints directly into your TransferWise account — the same way that a local would receive the funds. The TransferWise team clarified that this means that customers can get paid, receive funds from friends or family members, or be able to send forints to their own account.
The Fintech firm said that these bank details would be unique to each customer or user, and would be free to get if you have a TransferWise personal account. Like with many of the money transfer company's services, users need not fill out "long fussy forms" and there's also no need to maintain or provide a local address. (Note: to learn more about the setup process, check here.)
After customers have received their forints, they can spend them instantly with their debit cards. For consumers who are not shopping in Hungary, the cards will auto-convert to the home currency of the country that the user is in for "a small conversion fee." The TransferWise team claims that customers "don't need to lift a finger — except to tap that little green card."
Users can also keep holding forints in their accounts, and then later convert them to a different currency, or send the funds to another account. TransferWise confirms that Hungarian bank details are now available wherever the company's multi-currency account is accessible.
The Fintech firm also mentioned that they're currently working on adding more bank details for different currencies. They also noted:
"Money without borders, we're coming for you."
The TransferWise team reveals:
"The last few years have been quite a ride for TransferWise. We've grown into a global team of 2200+ employees with over 400 Engineers and now have over 300 microservices running in production. Our autonomous team structure has allowed us to scale our teams, product and infrastructure quickly. But this structure also requires constant support and decision-making, while balancing between reflecting back to our foundations and thinking strategically about the future. We need to think through how and what can we scale, what's culturally important, what behaviours should be shared and what shouldn't and, of course, always keep in mind how our decisions benefit (or hurt) our customers."
As reported earlier this month, TransferWise claims that it offers business accounts that are reportedly 19x cheaper than PayPal.
Nick Catino, head of policy and campaigns (Americas) at TransferWise, revealed in June 2020 how consumers are losing billions of dollars in hidden remittance payments costs.
In July 2020, TransferWise raised $319 million at a $5 billion valuation as growth continues to accelerate for the profitable Fintech firm.
As reported in August 2020, TransferWise has introduced API powered cross-border banking solutions in Asian markets. Also in August, TransferWise teamed up with accounting firm FreeAgent to offer better services to SMBs.
The Fintech company has also reportedly helped Alternative Airlines save £75,000+ on business transactions. TransferWise recently expanded its global partnership with Mastercard and introduced GBP and EUR direct debits.