Outlook:
We have a lot of news this week—see the Econoday calendar—but the norm is to attend to the ADP private sector jobs report on Wednesday, the Challenger jobs report on Thursday and the bazooka, the Sept monthly jobs report on Friday. While the numbers are still grim and recovery is still seen as stalling, the proof of the pudding will come on Oct 13-14 when Amazon holds one of its Prime Days. If US consumers are still greedy for material goods, that's when we see it.
All the same, the divide between the Haves and the Have-Nots is growing. Here's a sobering piece from the WSJ: "More homes are going dark as moratoriums on utility shut-offs end. Of the 36 states that issued moratoriums on utility shut-offs for people who couldn't pay their bills since the pandemic started, 14 have already expired. Between now and mid-October, an estimated 24 million households are set to lose protections as moratoriums end in nine more states. Utility companies say they can't afford to halt shut-offs indefinitely without raising prices for all their customers, and some low-income advocates say extending moratoriums is a double-edged sword. If they last until spring, some customers could have a year's worth of unpaid bills that will be even harder to pay."
An offset to this grim outlook is that some Americans are raring' to go. The WSJ reports more new business start-ups in over a decade as shown by applications for employer identification numbers—over 3.2 million so far this year vs. 2.7 million at the comparable period in 2019. This is not just gig workers but those who will employ other people. We'd really like to see comparable data from other countries.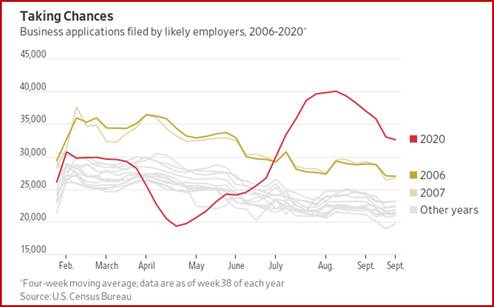 The election is starting to affect forecasts. Big bank analysts are starting to shift focus from tax increases under the Dems, if they win, to the stimulus they would sponsor, and that's a Very Good Thing, as even the Fed says. While there is a tiny chance Pelosi and Mnuchin will come up with a second stimulus bill this week, if the Dems win in November, a stimulus bill is a dead cert. This is nice for the stock market overall but also components like the banking sector.
The question we need to ask is whether the dollar loses steam after a Dem win because the domestic economic outlook is newly rosy again? If anxiety and risk-off start to fade, doesn't the dollar lose? The implication is that if Trump wins, or claims to win for some days and weeks until the final count is in, the dollar should get even stronger on risk-off but then collapse when it's Biden and the Dems after all, somewhere around Dec 1. Financial market analysts shy away from political considerations like this but we don't see how it can be avoided under the circs. The funny part is that the stock market is more at risk on a Trump win than on a Biden win.
Politics: On Sunday evening, the NY Times published a big story on Trump's taxes that had the cable universe thrilled for hours on end and promises to bleed into the debate on Tuesday night. Not that we didn't already know the guy is a crook, but here are facts and figures: Trump paid no taxes in 11 of 18 years or in 10 of the last 15 years. In two years (2016 and 2017) he paid a mere $750 each year. No zeroes are missing from that number. The base will think he's clever for evading taxes but in practice, he's in considerable legal jeopardy.
Trump paid more taxes to foreign governments like Panama and the Philippines than to the US government, while criticizing US companies for offshoring. He has income from deals with the government of Turkey and other foreign entities that constitute a conflict of interest and national security threat. Deductions for expenses are ludicrous and sometimes illegal, like gifting hundreds of thousands to Ivanka and naming it consulting. Most worrisome is the vast amount–$400+ billion—he owes over the next three or four years. Where will he get it?
The NYT is too smart to try to label what's outright illegal and what's only nasty—that's up to the prosecutors and courts. No minds are going to changed by any of this, probably, but once again we see that Trump was okay at playing a tycoon but never performed or delivered as one—he actually lost money on most of his ventures (except licensing his name).
It's a splendid story and front-page news pretty much everywhere.
Meanwhile, big bank analysts are starting to shift focus from tax increases under the Dems, if they win, to the stimulus they would sponsor, and that's a Very Good Thing, as even the Fed says. The the most recent polls, Biden still leads by 8 points, which is about the same as the last few months (5-9 points since May, according to 538.com).
See the YouGov "likeability" poll updated as of Sept 26. If we consider Hillary lost because her unlikeability and massive lead in the polls combined to motivate people to stay home, maybe we can hope for the same outcome for Trump. Republicans who held their nose last time but voted for him anyway will just stay home this time.
Likeability is different form "popularity" and "approval/disapproval." Bottom line, Trump is less likeable than Biden, and Biden is more likeable than Hillary.
Support for Trump arises from a deep resentment of the elites and grievance over life having treating them unfairly or unjustly. Trump is very good at riling up grievances. But when grievances come first, what follows is not necessarily sane and reasonable. Trump's toxic "given" is that the US is being taken advantage of by foreigners and that the ordinary Joe is being taken advantage of by the elites.
The problem is that some slice of it is true. It's true that Europeans were failing to pay their fair share of NATO costs. That has nothing to do with the Paris Climate Accord but Trump established resentment/grievance against Europeans as one of those givens. It's true that elite colleges have special places for legacy kids and it's unfair that Pell grants and the like go disproportionately to minorities, so the middle class is screwed. (Pell grants are for low income people but 72% go to minorities, as though poor white people are not as deserving as poor minority people).
---
This is an excerpt from "The Rockefeller Morning Briefing," which is far larger (about 10 pages). The Briefing has been published every day for over 25 years and represents experienced analysis and insight. The report offers deep background and is not intended to guide FX trading. Rockefeller produces other reports (in spot and futures) for trading purposes.
To get a two-week trial of the full reports plus traders advice for only $3.95. Click here!