Outlook:
Yesterday we got the Atlanta Fed's GDPNow estimate for real GDP growth—a whopping 30.8% in Q3. This translates to growth of 7% annualized in Q3 from -9.1% in Q2. The new estimate is based on the employment report last week, private investment and government spending. Private investment rose to 35.1% from 29.6% and government spending to 17.9% from 17.0%. We understand the model, sort of, but don't like the weight of last week's employment report. Note that the Blue Chip analysts are far less sanguine than the model.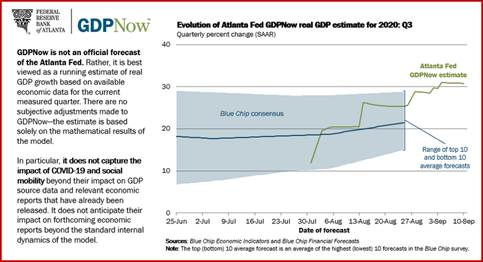 The WSJ reports that economists it polled come up with Q3 growth at 23.9%, more than 18.3% in the previous forecast. You can get dizzy looking at growth forecasts on a month-over-month basis, or quarterly-over-quarterly, or year-over-year, let alone annualized. What does it all mean? Whatever you want it to mean, evidently. You can choose it to mean robust, really rapid recovery or tepid, so-so recovery—but it's all recovery, so we can say the worst is behind us. But nobody really knows that. Q4 or Q1 can bring a Wave 2, or any of a number of natural disasters can intervene. Bottom line—it's a mistake to believe growth numbers, or to make any decisions based on them except perhaps the very long-term (industrial commodities look okay).
Today we get US CPI, forecast up a little to 1.2% from 1.0% and core to 1.6%. This is a ho-hum bit of data, probably, because the Fed will be sitting on its hands—won't it? The FX market seems to have built in a dovish expectation for next week's FOMC but quite how dovishness will be manifested is not clear. In any case, whether markets care one whit about inflation will be seen more in the real return than in the dollar, at least at first. It's puzzling that the FX market is building in a dovish Fed while the stock market is not, apparently, or not for some sectors, especially tech.
See the "greed and fear index" from CNN and the CBOE VIX—they both say the same thing: sentiment favors a rising market. To the extent a happy stock market reduces global fear and loathing, aka risk aversion, this is dollar negative.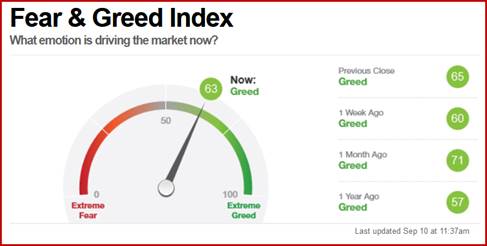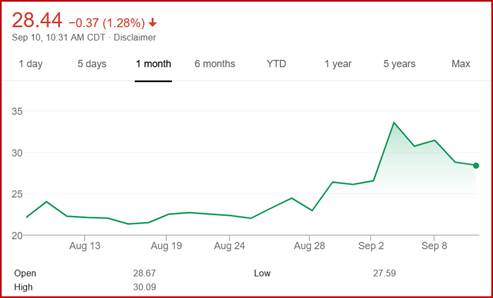 So now we have two big factor pointing to dollar weakness—a dovish Fed and a happy stock market. But what about the "real" economy? We continue to be a gloomster. The WSJ has a story on global Q3 growth not too bad, but "there are indications that its recovery is likely to slow from there, with the novel coronavirus still weighing heavily on consumer services and other businesses." And that's in the absence of a Wave 2. If we get a Wave 2, all bets are off. Even though we would have to expect the US to get the most cases and deaths in a Wave 2, thanks to lousy management that persists to today, the dollar would still be the beneficiary.
We will stick to the more immediate factors as dollar-determinants, and unless the stock market gets a panic, that means a weaker dollar going into the weekend.
In politics, today is the anniversary of the World Trade Center attack on 9/11. Memorials are being held in various places but will of necessity have small attendance. Everyone is waiting to hear what lies Trump will tell. He collected a big insurance check from the 9/11 Compensation Fund despite having lost nothing.
---
This is an excerpt from "The Rockefeller Morning Briefing," which is far larger (about 10 pages). The Briefing has been published every day for over 25 years and represents experienced analysis and insight. The report offers deep background and is not intended to guide FX trading. Rockefeller produces other reports (in spot and futures) for trading purposes.
To get a two-week trial of the full reports plus traders advice for only $3.95. Click here!