Sony finally announced the price and release date for the PlayStation 5, its next-generation console.
The specifics were revealed during Wednesday's PS5 Showcase online presentation. While it featured approximately 40 minutes of trailers, updates and gameplay footage for some of its best upcoming games (like new Final Fantasy and Harry Potter games), it's the pricing details that have gamers talking.
The standard PS5 console will cost $499 with the PS5 Digital Edition coming in at $399.
The console will be released on November 12 in the following countries: United States, Japan, Canada, Mexico, Australia, New Zealand and South Korea. The rest of the world gets it on November 19.
Newsweek subscription offers >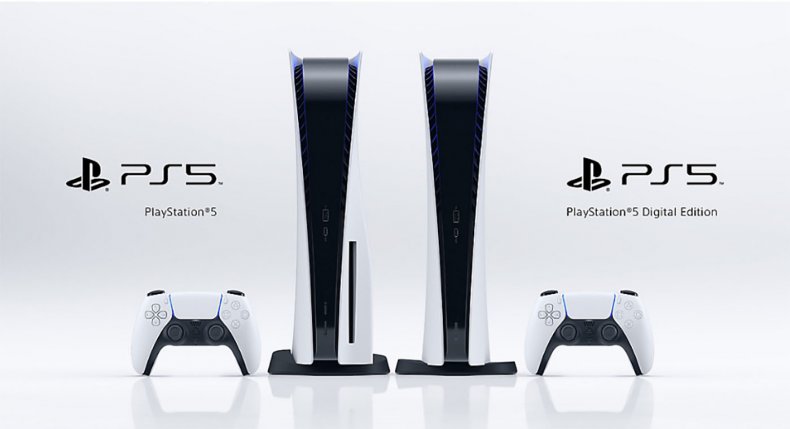 The announcement comes just a week after the release date and price of its competitor, Microsoft's Xbox Series X, were announced. Microsoft will release the Xbox Series X and its more economic Xbox Series S consoles on November 10, for $499 and $299, respectively.
Sony took its time to reveal the PS5's official drop date and cost. Ever since the system was announced in 2019, there was no indication as to when fans would learn more about it.
Gamers first learned about the technical specifications of the PS5 back in March, when Sony presented the specs in an online presentation that was originally intended for this year's Game Developers Conference (GDC), which was canceled due to the COVID-19 pandemic.
Newsweek subscription offers >
The specs for the PS5—and how they compare to those of the PS4—were revealed during that presentation. It should also be noted that the PS5 digital will have the same specs, just without a disc drive. You can read the comparison in specs between PS5 and PS4 below.
PlayStation 5

CPU

8x Zen 2 Cores at 3.5GHz (variable frequency)

8x Jaguar Cores at 1.6GHz

GPU

10.28 TFLOPs, 36 CUs at 2.23GHz (variable frequency)

1.84 TFLOPs, 18 CUs at 800MHz

GPU Architecture

Custom RDNA 2

Custom GCN

Memory/Interface

16GB GDDR6/256-bit

8GB GDDR5/256-bit

Memory Bandwidth

448GB/s

176GB/s

Internal Storage

Custom 825GB SSD

500GB HDD

IO Throughput

5.5GB/s (Raw), Typical 8-9GB/s (Compressed)

Approx 50-100MB/s (dependent on data location on HDD)

Expandable Storage

NVMe SSD Slot

Replaceable internal HDD

External Storage

USB HDD Support

USB HDD Support

Optical Drive

4K UHD Blu-ray Drive

Blu-ray Drive
As for pre-orders of the PS5, Sony gave a limited number of pre-orders to already-existing PlayStation owners in late August. It was on a first-come, first-served basis and via invite only.
What do you think of the official price and release date of the PS5? Let us know in the comments section.