It's been almost six months since most of us have been on campus and you might notice that Comm Ave and Kenmore Square are looking a little different. The coronavirus pandemic forced many local businesses to shut their doors for good; the Massachusetts Restaurant Association recently reported the same fate for about 20 percent of the state's eateries. 
We've put together a list of some of the popular spots near BU's campus that have, sadly, closed down, either temporarily or permanently. 
Ready for some good news? A few new restaurants have already announced plans to open in the vacated spaces.  
Closed…but there may be something new coming
Blue State Coffee closed when COVID cases began to rise in March. The coffee chain did reopen its branches in New Haven and Providence, but our local spot near Agganis Arena has remained shuttered and is no longer listed on Blue State's website. Since 2010, the café had offered a welcoming and relaxing space to students, faculty, and staff, who often met in small groups to study or chat. Known for its creative coffee drinks and light lunch options, Blue State was also deeply community-oriented: with each purchase, it handed out wooden coins that could be used to vote for a local nonprofit it would support. Some of its recipients were the Greater Boston Food Bank, the Cambridge Women's Center, the Boston Natural Areas Network, and the Match Charter School. 
T's Pub

973 Commonwealth Avenue
Before the pandemic hit, popular student haunt T's Pub announced it would close this spring. The first inkling, back in January, was the news that the pub was looking to transfer its liquor license. T's Pub opened in 1971 and was a favorite with both students and local Allstonians. Between its karaoke sessions, trivia nights, and big game broadcasts, the pub's welcoming and energetic environment was a real draw. Guests also devoured the classic bar food on its menu, like chicken wings and nachos. 
Korean barbecue restaurant Gopchang Story is set to open in its place. According to the restaurant's website, it specializes in dishes made from small intestines of pigs and cattle, either grilled, boiled in soup, or made into sausages.
Love Art Udon

1024 Commonwealth Avenue
This udon noodle restaurant opened less than two years ago. The primary draw was its udon bowls, with varieties like curry, miso, and vegetable tempura. Love Art Udon was also known for displaying works by local artists around the restaurant, including a mural of Tokyo subway cars. A statement on its website says that customers who have gift cards can still use them at the restaurant's branches in Kenmore Square and the West End, as well as its sushi sister restaurants Love Art Sushi and Poke By Love Art, which remain open.
Scoozi

580 Commonwealth Avenue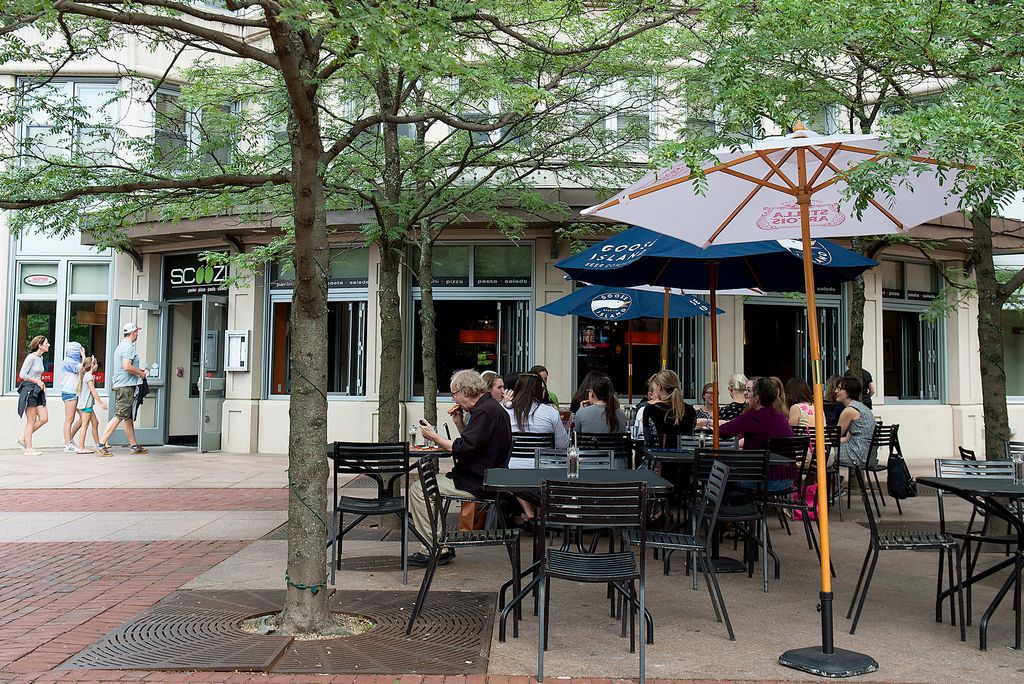 Directly across the street from the Questrom School of Business, the now-defunct Italian restaurant Scoozi had been a campus hot spot since 2010, but, sadly, it closed last year. It offered a wide variety of meals, all relatively affordable, ranging from pastas like cheese tortellini to some great salads, sandwiches, and pizzas. 
The hot pot chain Shu DaXia, based in China's Sichuan province, is scheduled to open its first American branch at the address, although no opening date has been announced. According to its website, its traditional Sichuan hot pot dishes will primarily consist of cattle stomach, viscera, and vegetables.
This historic Kenmore Square hotel closed permanently in April after freezing operations at the beginning of the pandemic. The hotel, opened in 1897, had a long and storied history. It was where the plot to fix the 1919 World Series was hatched, and 20 years later it housed Italian prisoners during World War II. In the 1950s, George Wein (CAS'50) opened the jazz club Storyville on the ground floor and hosted performances by iconic artists like Billie Holiday, the Dave Brubeck Quartet, and Louis Armstrong.
Uno's

645 Beacon Street
The Kenmore Uno's, in the same building as Hotel Buckminster, permanently closed in June after 30 years. It was the chain's last branch in Boston. According to a spokesperson, various factors caused it to close, including the Buckminster closure and the lack of BU students on campus and of fans attending Red Sox games. Uno's drew a large Fenway crowd before and after games, making for a vibrant place to nosh. The restaurant was known for its flavorful Chicago-style deep-dish pizzas.
Eastern Standard, which made its home in the Hotel Commonwealth since 2005, shut down operations in March and has yet to reopen. According to the Boston Globe, after years of negotiations, owner Garrett Harker has not reached a lease agreement with the real estate group that owns the space; the pandemic's economic impacts have only further strained their talks. For 15 years, the brasserie attracted Bostonians celebrating a special occasion or wanting to sip a fancy cocktail at its marble bar, the longest in the city. Boston University played an important role in financing the restaurant's opening before transferring its share to Harker in 2011.
The Hawthorne is in the same boat as siser restaurant Eastern Standard, unable to reach a compromise with the landlords over its lease. The 18-seat cocktail lounge offered some great mixed drinks, like the Commodity, tequila, strawberry Campari, East India sherry, and lemon, ciders, rums, and a vast array of beers. It won Tales of the Cocktail's 2017 award for best American hotel bar and has been listed in the Food Network, Bevvy, and Thrillist as one of the top bars in the city and country.
Island Creek was the third restaurant in the Hotel Commonwealth to close, but its Burlington location has reopened. The upscale seafood spot has been known for its raw bar, creative entrées, and innovative drinks since 2010.
This counter service Mexican eatery opened near West Campus just over a year ago, but unfortunately had to close earlier this year. It is unclear whether and when it will reopen. Taqueria el Barrio was a popular destination for students and staff for its tasty and affordable array of tacos, quesadillas, tortas, and Mexican plates, which you could customize with your choice of protein, along with beans, tortillas, and guacamole. It also offered some great authentic Mexican sodas and freshly fried churros. 
Pho Common

468 Commonwealth Avenue
Pho Common is temporarily closed and has not released information on whether it will reopen. This traditional Vietnamese pho restaurant opened in February 2019 and served its soup dishes with the customer's choice of meats on the side.
Reopened or new to the area
After closing its doors earlier this year, Sunset Cantina welcomed diners back on September 5. The Mexican restaurant, typically packed on weekends, is famous for its nachos, which you can customize with toppings of chili, black beans, chicken, pulled pork, or steak. Buzzfeed and Thrillist have described them as the best in the country. But there are plenty of other great items on the menu as well. The restaurant's smoking fajitas, with Poblano, bell peppers, and onions mixed with tomatillo green salsa, is also an immensely popular choice. For those 21 and over, Sunset offers a wide assortment of draft beers, margaritas, and cocktails. 
Taco Bell

827 Commonwealth Avenue
Fast food chain Taco Bell is set to open up a cantina-style location, although the exact opening date isn't yet known. While fast food will be available, customers will also have the option of sit-down dining, and this branch will serve alcoholic beverages.
Tsurutontan

512 Commonwealth Avenue
This Japanese chain opened inside the Hotel Commonwealth this January. Tsurutontan is known for its fresh, homemade udon noodles, made with flour from Japan. Some of its menu standouts: the Maki, a spicy tuna roll ($8), and the stir-fried sukiyaki udon ($18). You should also try the bar bites, like the grilled duck breast or the assorted shrimp tempura, each just $12.
The Kenmore

476 Commonwealth Avenue
Just a few steps away from Charlesgate Park, the Kenmore opened its doors last October. Its dishes are affordable and tasty, and among the selection of burgers are the smokehouse burger ($7.95) (with bacon, barbecue sauce, coleslaw, fried onions, and cheddar), the pub burger ($7.95) (bacon, ground cherry peppers, and the restaurant's special "K" sauce), and the "Beyond Meat" vegetable burger ($8.50) (a veggie pattie, with lettuce, tomatoes, onions, and fresh herbs). On the side, we recommend pork fried rice ($9.95) served with a sunnyside egg and ginger sweet soy sauce, or the vegetarian-friendly fried brussel sprouts with buffalo and blue cheese sauces. The menu also features several draft beers, like Allagash White ($7.50), and wine ($9 a glass). The Kenmore is open for brunch on weekends, too.