Market Sentiment, Consumer & Business Confidence and Trading – Main Talking Points:
M

arket

s

entiment

and

c

onfidence

data c

an

i

mprove

y

our

t

rading

.

The

PMIs

are good

predictors of economic growth

.

The

Ifo

i

ndex

and several other sentiment releases are also useful for forecasting growth in GDP.
How Market Sentiment & Confidence Surveys Can Improve Your Trading
Each week, the economic calendar is packed with releases on market, consumer and business sentiment.

Research shows these are good predictors of economic growth so traders must watch out for them as they are good indicators of the likely levels of interest rates and therefore currency prices.
Even a cursory glance at the economic calendar will show it packed each week with indicators of market sentiment, consumer confidence and how businesses see the future. They are easy to ignore amid the plethora of official high-impact figures on growth, inflation and the labor market. Yet they can be just as important for traders.
As we've said before, trading on the official statistics is like driving a vehicle using the rear-view mirror. They tell us what has happened, not what is going to happen. By contrast, the "soft" data provide a glimpse into the future, and that is why they matter.
While some analysts dismiss them, research shows they have a high correlation with the official numbers published later; put simply, they are good predictors of what is to come. In this article, I summarize some of the published analysis that proves the point in all the major blocs from the US to China and the Eurozone.
PMIs as predictors of economic growth
Take the PMIs first. Each month, the research company IHS Markit surveys the people who buy goods and services for their businesses and asks them about the current situation and, more importantly, the outlook as they see it. Surprisingly, perhaps, the statistics prove to be excellent predictors of economic growth in all three regions. Here, to kick off, is a scatter diagram showing these purchasing managers' indexes and US GDP: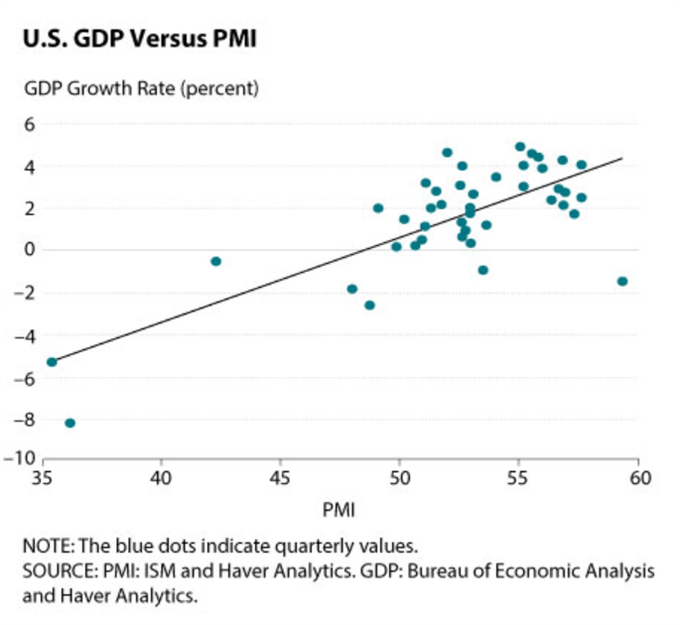 Source: St Louis Fed
More surprisingly, the PMIs are also well correlated with GDP growth in China, even though there are questions about the reliability of official Chinese statistics.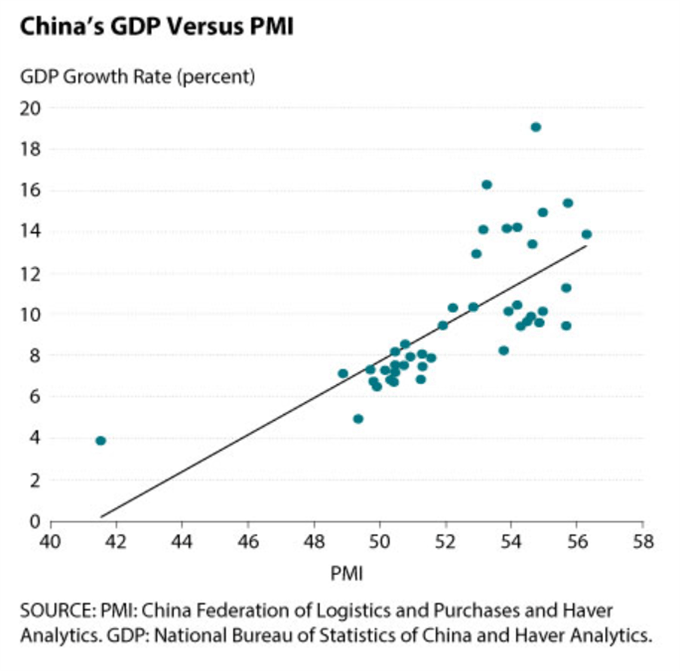 Source: St Louis Fed
It is clear from the following chart that the PMIs have predictive power in the Eurozone too: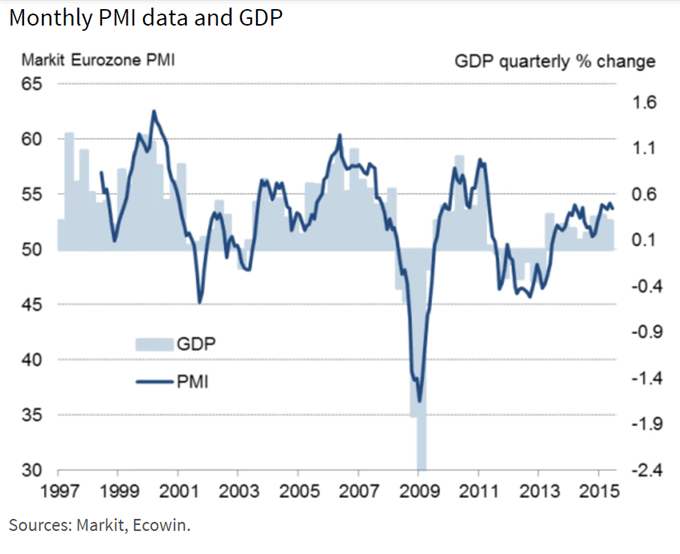 Source: IHS Markit
Ifo index as another tool to forecast economic growth
Within the Eurozone, the principal forward looking indicator is the Ifo business climate index, calculated by Germany's Ifo Institute. Looking at the Eurozone's largest economy specifically, it too is a useful forecasting tool: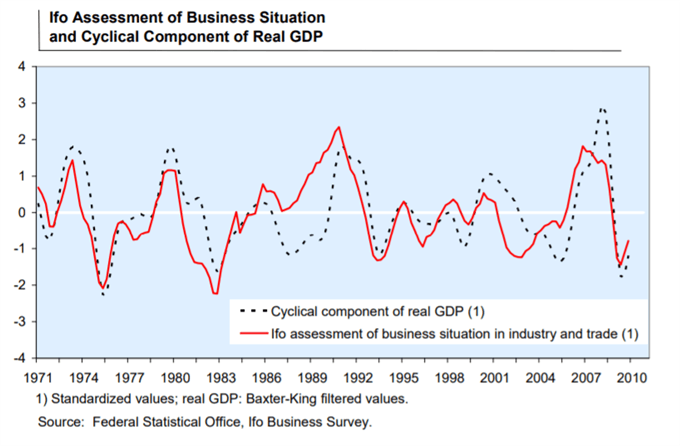 Source: CES Ifo
Europe's official sentiment surveys
Staying with the Eurozone, the European Commission itself publishes a raft of monthly data on economic, industrial and services sentiment, consumer confidence and the business climate. These too are well correlated with GDP growth in the region, as the next three charts show. Indeed, the fit is almost as good as the composite PMIs for the region.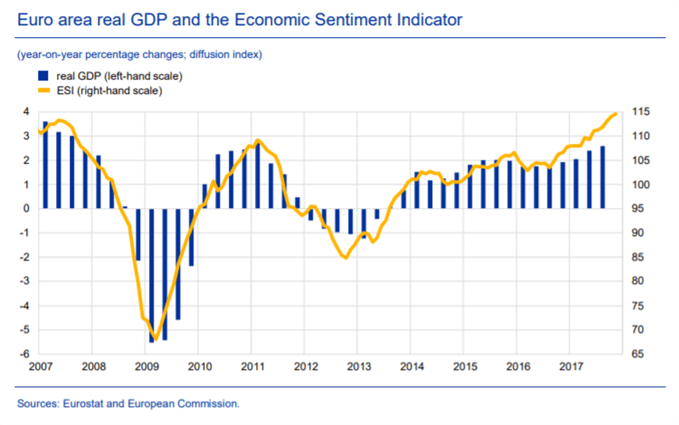 Source: ECB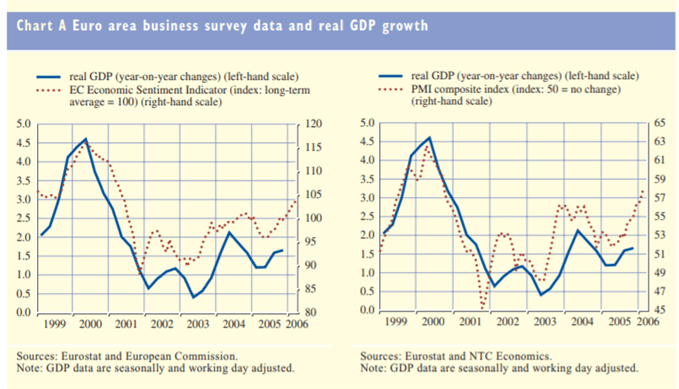 Source: ECB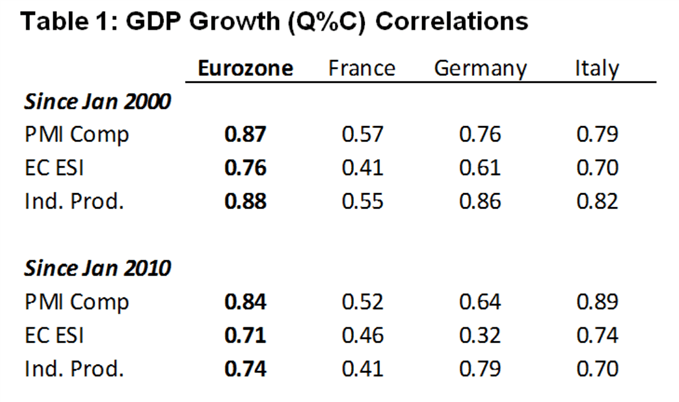 Source: IHS Markit
As mentioned earlier, GDP growth is important for traders because central banks take it into consideration – along with factors such as inflation – when setting interest rates. As currency prices tend to climb when rate expectations rise, and fall when they decline, sentiment data can have an immediate impact on exchange rates. Here, for example, is how EURUSD jumped after the Federal Reserve Bank of Philadelphia (Philly Fed) business outlook indicator fell unexpectedly in February 2019.
Note that, as is often the case, the initial move was soon reversed, emphasizing how nimble traders have to be.
EURUSD Price Chart, Five-Minute Timeframe (February 21, 2019)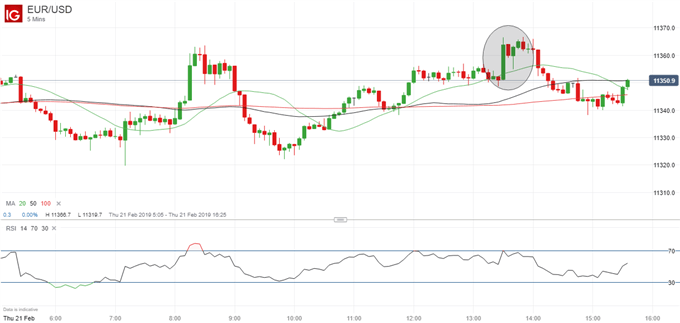 Chart by IG (You can click on it and all the other charts for larger images)
US business and confidence indicators
Staying with the US, several other Federal Reserve Banks produce their own indicators too, and there are also two important measures of consumer confidence, calculated by the University of Michigan and the Conference Board, an independent US think tank. The Michigan measure's correlation with GDP is shown below.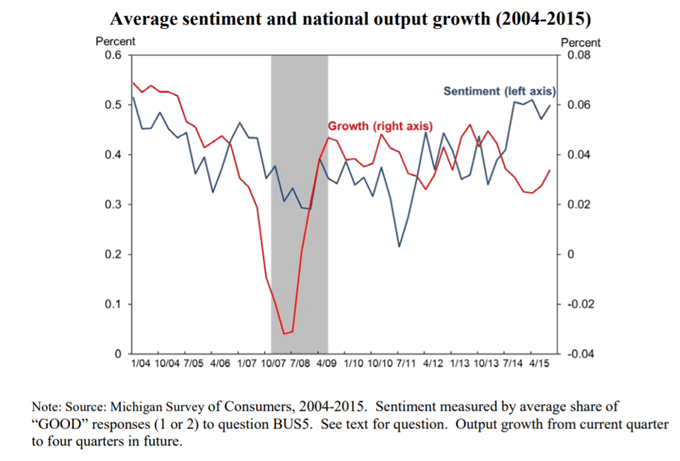 Source: San Francisco Fed
In conclusion, therefore, it is clear that traders should not ignore the sentiment and confidence data ranging from the Confederation of British Industry's Industrial Trends Survey to the Tankan short-term economic survey of businesses from the Bank of Japan – all of which can potentially move the markets.
More to read:
How to Trade in a Bear Market: A Short Seller's Guide
Where to find Retail Trader Sentiment Data
And here's an example of how a weak PMI – in this case from China – can have an impact on market sentiment
Resources to help you trade the forex markets:
Whether you are a new or an experienced trader, at DailyFX we have many resources to help you:
— Written by Martin Essex, Analyst and Editor
Feel free to contact me via the comments section below, via email at [email protected] or on Twitter @MartinSEssex