Editor's note: This story is a part of a series highlighting Latter-day Saints for General Conference week.
SALT LAKE CITY — As millions of members of The Church of Jesus Christ of Latter-day Saints prepare to watch the 190th Semiannual General Conference this weekend, KSL.com spoke with three of Utah's political leaders about their Latter-day Saint faith and how it impacts their public service.
Mike Lee
U.S. Sen. Mike Lee, R-Utah, has served as a senator in the Beehive State since 2011. Previously, the senator served as former Gov. Jon Huntsman's general counsel. Currently, Lee sits on several Senate committees including the Judiciary Committee and as chairman of the Antitrust, Competition Policy and Consumer Rights Subcommittee.
Luz Escamilla
Utah State Senate Minority Whip Luz Escamilla, D-Salt Lake City, has served in the Utah State Legislature since 2009. The state senator immigrated to the U.S. from Mexico in 1996. After finishing her high school education in California, Escamilla moved to Salt Lake City where she earned a Bachelor of Science degree in business marketing from the University of Utah.
Ben McAdams
U.S. Rep. Ben McAdams, D-Utah, stands as the state's lone Democrat in the Congressional delegation. Elected to represent Utah's 4th Congressional District in 2018, the congressman previously served as Salt Lake County mayor from 2012-18.
---
Interviews have been edited for length and clarity.
Q: How do politics and religion fit together for you?
Lee: "As a believer myself, I think they're inseparable. I can't fathom … doing any significant aspect of my life without my faith. And that would certainly include my public service."
When Lee, who is a licensed lawyer both in Utah and Washington D.C., was being sworn into the D.C. bar, the judge spoke about what it means to be a lawyer. Lee said he remembered the judge saying: "From this moment on, this is one hat you will never take off. You are a lawyer and you have to act in a manner that reflects well on the profession."
"In an understated way, that similarly describes my relationship with my faith in any position I'm in," Lee continued. "My faith is part of who I am.
"I don't ever see myself in any light other than representing my faith. In other words, even though I'm not always speaking for the church — my job as a senator is not an ecclesiastical calling — but I don't view myself as ever not wearing the hat of member of The Church of Jesus Christ of Latter-day Saints or follower of Jesus Christ."
Escamilla: "Religion provides a framework or a map for politicians. It's a cultural identity, one of many, for me. And in my case, my religion certainly helps me bring a perspective on ethics and on morality.
"But more than anything, I think my religion is a cultural identity that helps me frame different issues and helps me understand better a number of human interactions and human nature. It's one of the many things that I think are part of my identity."
McAdams: "My faith is a big part of my life. My religion and my faith gives direction to my public service."
McAdams said he follows advice often shared by the late President Gordon B. Hinkley, who "counseled church members to stand strong and to be leaders even when faced with adversity."
"Frequently in my work in Congress, I have to stand for what's right, even when I have to go against my own party or when it might be easier to vote the status quo," McAdams said. "And I remind myself that my values — my religious values and Utah values — are more important than anything. Having a firm foundation allows me to be guided by principle rather than by politics."
The congressman continued: "For me, public service is an expression of service to God. So, I think there's a straight line between service taught in church where we learn to give back and to serve and public service."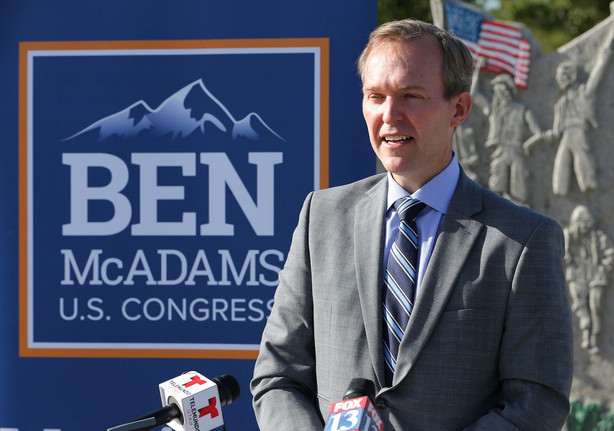 Q: Do you ever use prayer in your role as a public office holder?
Lee: "All the time. Literally all the time. I regularly pray with colleagues and I pray on my own for guidance."
Escamilla: "I use prayer in my daily life, so part of my daily life is certainly the work I do as a senator, but I'm not necessarily using it for legislative purposes. I see prayer as a tool to be able to make better decisions in my life and that also includes my professional and also my legislative work as well."
McAdams: "Daily. Prayer is part of my public service on a daily basis.
"I usually pray for enlightenment, that I can understand the consequence of the positions I make and how they will affect my public service and affect the people I'm dedicated to serving. I pray for understanding of others that I can understand their intentions. I also pray to have a pure heart in my own service and to serve without guile. Politics is a place where a lot of people carry around a lot of grudges. And I pray to serve with a pure heart."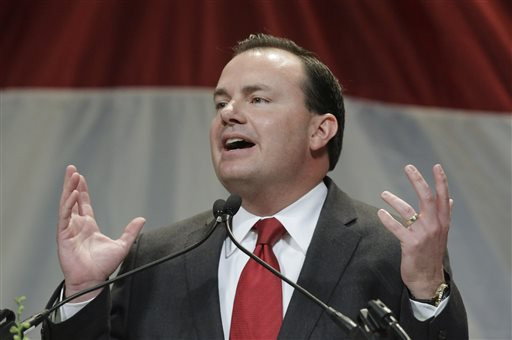 Q: Do you hold any church callings in your local ward?
Lee explained he and his family recently moved from Alpine to Provo and he hasn't yet been issued a calling; however, he noted that he's previously served as a Sunday school teacher.
"They are about to issue my administrative assignment and a calling so I look forward to that," he said.
Lee also said when he happens to be in D.C. on Sundays, he will attend a local church service in the area.
Escamilla serves as a Sunday school teacher for the youth in her ward in the Rose Park Stake.
McAdams: "I've served in numerous bishoprics, both in singles wards and married wards and I currently teach Elder's Quorum in our ward in Utah. I have never been in D.C. on a Sunday. My family, my wife and our four kids, live in Utah and so I've always been able to fly home and spend Sundays with them."
---
I think diversity always encourages any conversation and dialogue and I think that's needed in religious congregations and in legislative bodies and everywhere
–Sen. Luz Escamilla, D-Salt Lake City
---
Q: Do you think that it's important for there to be political diversity among members of the Latter-day Saint church?
Lee: "What I think is that members of the church ought to decide for themselves what they consider sound principals of public policy, and they ought to look for good people to support in elections who will support the positions that they deem appropriate.
"I know good, faithful Latter-day Saints who are in both political parties, and I know good Latter-day Saints who occupy basically every position along the political, ideological continuum," Lee continued. "I think we are expected as Latter-day Saints to try to make the world a better place and to support good candidates who are good people who support things that we think will make the world — or our community, or our state, or our country — a better place in which to live. And I think reasonable minds among equally faithful Latter-day Saints can and do reach different conclusions about what that means."
Escamilla: "Absolutely, I think diversity always encourages any conversation and dialogue, and I think that's needed in religious congregations and in legislative bodies and everywhere. I'm all for diversity and diversity in thoughts."
For Escamilla, other types of diversity — like racial or gender — are crucial as well and always contribute to better conversations and "better outcomes of policy," she said.
McAdams: "I think there is room for political diversity. I don't believe that any political party holds all of the values of the church. I think there are good values and good ideas in both political parties, and I think there are bad ideas that come from both political parties.
"I really think there's room for faith in all political parties; and in my service in Washington, I see people of deep faith in different religious backgrounds who I serve with who inspire my service, Republican and Democrat."
On the topic of diversity in the church, McAdams added: "I'm proud of our Latter-day Saint history, and we are diverse on so many levels as a global church. I think Utah stands apart in welcoming immigrants and accepting others into Utah. We send missionaries all around the world. Those experiences — living in cultures different than your own — create empathy and love for others and their lives and help you really to be more accepting of those from different backgrounds. I know my mission in Brazil opened my eyes to what the world is like outside of Utah and helped me to understand people from different cultures, people from different backgrounds."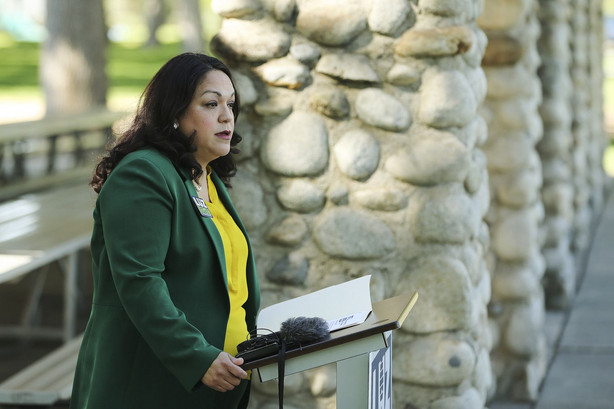 Q: Is it important to maintain civility and respect during disagreements? Do you ever draw on your religious beliefs to help achieve this goal?
Lee: "Of course. It's best when you can focus on the argument rather than on the person. It's best when you try to understand another person's point of view; and even though they might disagree with you or come up with a conclusion that you think is incorrect, mistaken or even harmful, if you start from the premise that most of the time, nearly all the time I think, at least in this legislative body, people have reasons for doing what they're doing.
"You might not agree with them, but they are reasons. They're not reasons that involve them wanting what's worse rather than what's better for America. They just have a different vision of how best to get to better or what better looks like."
Lee also said it's important to take "civility" a step further, to charity and love.
"Charity, in the sense that word is used by the Apostle Paul and by the prophet Mormon," he explained.
In the New Testament of the Bible, the Apostle Paul in 1 Corinthians 13 discusses charity and describes it as a "pure love" that "excels and exceed almost all else."
In the Book of Mormon, the prophet Mormon said: "Charity suffereth long, and is kind, and envieth not, and is not puffed up, seeketh not her own, is not easily provoked, thinketh no evil, and rejoiceth not in iniquity but rejoiceth in the truth, beareth all things, believeth all things, hopeth all things, endureth all things."
"That charitable kind of love that we should have toward all fellow human beings is so important," Lee said.
Escamilla: "Civility is critical."
Escamilla added that she thinks civility can be taught: "I believe that these are learned behaviors and I think most religions absolutely teach civility and the way you approach disagreements."
McAdams: "Absolutely, that's important. Oftentimes, while I think it's important to recognize that we may have different approaches to solving problems, we are by and large unified in purpose. Our goals are to serve for the love of God and the love of our country and to do everything we can to lift up others and create opportunities. Whether you're Republican or Democrat, I think most people are unified in that purpose. We're all children of God. I think it's important to recognize that and recognize the dignity in each human being because of our godly nature."
×
More stories you may be interested in