InvestorPlace – Stock Market News, Stock Advice & Trading Tips
Alphabet (NASDAQ:GOOG, NASDAQ:GOOGL) stock is up almost 13% year-to-date even after the recent market decline. In fact, the stock is up almost 25% in the past year, but most of that increase has come in the past six months.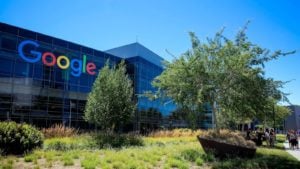 Source: Valeriya Zankovych / Shutterstock.com
The market anticipates that an economic recovery is coming and this will boost Google's basic digital advertising business. This will continue to boost Alphabet stock higher, as I pointed out in my last article in August, as well as my May article.
Moreover as the economy grows, the demand for advertising picks up. This leads to a positive feedback loop, since there are many direct and indirect effects that advertising plays in the economy.
Advertising Drives Alphabet Stock
Keep in mind that 78% of Alphabet's revenue, as of the latest quarter (see page 10 of its 10-Q), comes from Google advertising revenue of $29.9 billion. The remaining $8.43 billion Google cloud, other and hedging revenue is a little over one fifth or 22% of total sales. Nevertheless, for the most part advertising is what drives Alphabet's growth.
This is important since advertising is highly correlated to economic growth. A study by IHS Markit (NYSE:INFO) in 2015 concluded that there is a 6.5% direct impact of advertising related to nominal U.S. sales. However, a much larger indirect and induced effect was estimated to be at least 16%. In other words, at least 16% of nominal gross sales in the economy are attributable to total advertising expenditures in the economy.
Alphabet is depending on this effect to power its sales. Google's digital search ad revenue makes up 71.4% of its advertising and 55.7% of its total sales.
But the Google search ad revenue was down 9.8% year-over-year in the most recent quarter ending June 30. It was also down 13% from the prior quarter. Overall, its advertising business, which includes Google search and YouTube advertising was down 8.0% year-over-year.
So the upcoming third quarter report on Google ad sales is going to be very important. The growth in the U.S. economy is likely to boost this most basic part of Alphabet's business.
Diversification Works
By the way, don't get too worried about Alphabet's business overall. Last quarter its total sales were down only 1.67% year-over-year. Other elements, including cloud, Google Play and YouTube subscription fees increased enough to take up the downturn in sales in advertising.
This shows me that diversification at Alphabet Inc. is working. The non-advertising part of the company is only 22% of sales. But it had enough growth to temper the total decline in sales.
You can see this trend in the chart at the right. It shows that over the past five years the share of total revenue from advertising has declined.
For example, in 2015, 90% of total revenue came from Google search and YouTube ad revenue. But by the first half 2020, this had declined to just over 80%.
Obviously this trend can be expected to continue as Google Play, Google Cloud and YouTube subscription and fee revenue grows. They are growing at a faster pace than ad revenue growth.
Moreover, these non-ad revenue sources will act as a major boost to sales when advertising starts to grow again. In other words, it will help boost sales growth, and more importantly free cash flow growth (FCF).
Where This Leaves GOOGL Stock
I still believe that GOOGL stock is deeply undervalued. In my last article I compared Alphabet's FCF yield to some of its major competitors.
I found that the average FCF yield of 2.87% divided by the annualized $34.4 billion in FCF yields a market value of $1.198 trillion. However, if we assume that FCF will grow at least 10% over the next year, the estimated future market value will be $1.318 trillion.
This is 28% higher than today's market value for Alphabet stock of $1.03 trillion. Therefore I estimate that GOOGL stock is worth 28% more than its price today of $1,508.83, or $1,926.52 per share.
On the date of publication, Mark R. Hake did not have (either directly or indirectly) any positions in any of the securities mentioned in this article.
Mark Hake runs the Total Yield Value Guide which you can review here.
More From InvestorPlace
The post Alphabet Stock is a Play on Economic Recovery as Advertising Picks Up appeared first on InvestorPlace.