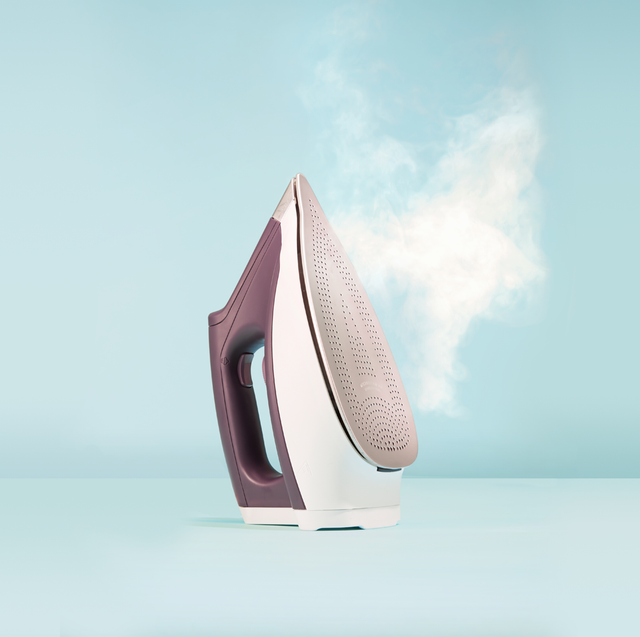 When you want that pressed-from-the-dry-cleaner look, you need a powerful steam iron to get your clothing fabrics crisp and wrinkle-free. Sure, garment steamers can get the job done, but it's the heat and weight of a steam iron (plus the support provided by your ironing board) that assure you get the super smooth results you crave.
Thankfully, today's irons are making this once onerous job easier and quicker to do. Top models heat up quickly and have electronic controls to more accurately hold precise and safe temperature to prevent burning and scorching. They steam without dripping and are easier to use with large, see-through and removable water tanks and retractable cords.
How we test irons
When the Good Housekeeping Institute Cleaning Lab evaluates irons, we measure the amount and rate of steam they produce, the temperatures of the bottom soleplate at various settings, the temperature swings (highs and lows) at each setting, and how hot the handle and body get, for safety. We time how long the irons take to heat up and we weigh how heavy they are. We assess how easy the controls and sprays are to use, how easy the water tank is to fill, and how likely the iron is to tip over if placed on a wobbly board.
Finally, we wrinkle and ball up cotton, linen, wool, nylon and other synthetic fabrics and allow the creases to set overnight. The next day, each swatch is ironed on the appropriate setting and we rate it on a scale of one to five for its smooth appearance using the standard guides that are part of the Textiles industry testing methods. All in all, we spent more than 150 hours testing over a hot board to evaluate 15 irons. These are the top recommended steam irons from Good Housekeeping Institute tests:
Advertisement – Continue Reading Below
Best Overall Steam Iron
Electronic Retractable Iron
CHI Steam
amazon.com
$98.50
You may be familiar with the CHI brand from its hair styling tools, and, thankfully, what CHI has done for hair they are now doing for what you wear. This CHI model not only smoothed tough-to-iron fabrics like linen and heavy cotton superbly, but it also had the most powerful steam burst of any iron in our test. It's comfortable to hold and use and once you've turned the fabric selection dial, the illuminated display makes it easy to see that you've made the right choice. The water chamber is large and easy to fill and the retractable cord means it takes up less storage space.  We found the scratch-resistant ceramic soleplate especially easy to glide across fabrics. This iron is such a lab favorite that whenever someone comes in to borrow an iron, we hide this one away! 
Great steam
Soft grip handle
Retractable cord
Large buttons
Best Value Steam Iron
Vitessa Iron
Black + Decker
amazon.com
Even with a small price tag, the Black + Decker Vitessa ICR2020  tied for first place in our wrinkle removal tests. We love that it has six different temperature settings, allowing for a more customized ironing experience, while its nonstick soleplate gives a smooth glide that rarely snags the edges of fabric. Storing this steam iron is as simple as pushing a button thanks to the retractable cord. It took a little longer than others to heat up, but once it picks up steam, it's hard to put down. 
Great wrinkle removal
Retractable cord
Well-priced
Takes a bit longer than others to heat up
Fastest Heating Steam Iron
ExtremeSteam Pro Iron
The Conair ExtremeSteam Pro GI300 Iron has a heat-up time of less than 60 seconds, even at the max heat setting. It also had top scores in our steam producing tests, so you can count on it to get your clothes wrinkle-free. This iron has rubber feet to help keep it stable and make it less likely to tip over. The transparent water tank helps you see exactly how much water is in the reservoir. (Tip: Avoid drips by only filling it up to the max line.) 
Heats up quickly
Stable when upright
Iron can drip if the water tank is over-filled
Best Cordless Steam Iron
Versa Glide Cordless/Corded Iron
Sunbeam
amazon.com
$28.32
Use the Sunbeam Versa Glide to get out those pesky winkles without the hassle of the cord or use it with the cord for longer periods of steam and heat without placing it back on the base. The base actually attaches to the rear of the iron. It isn't bulky and it's still very light relative to other irons we tested, even with the base attached. Plus, it's one of the best deals around, especially for a 2-in-1 product! The vertical steam function is very strong and all of the controls were intuitive and easy to use.
Can be used corded or cordless
Lightweight
Steams well vertically
Takes 30 minutes to automatically shut off, longer than others
Most Popular Steam Iron on Amazon
Steammaster Steam Iron
Sunbeam
amazon.com
$29.99
Amazon reviewers loved this Sunbeam iron for its price and performance and Sunbeam irons and steamers have done well in our previous GH Cleaning Lab tests. This inexpensive iron has high-end features like a retractable cord (making it super convenient when putting it away!), a 3-way (side, flat, and upright) auto shut-off for safety and vertical steam. 
One reviewer said "Being a professional seamstress, I use an iron daily. This is the best iron I have ever used!! I have had about 10 irons during my years of sewing professionally and this one is the best iron I have purchased, hands down!!!"
Retractable cord
Well-priced
Small fabric selector dial
Best Travel Steam Iron
Ovo Portable Steam Iron
Reliable
amazon.com
$49.00
Good things do come in small packages: The palm-size Ovo will smooth out wrinkles at home and on the road. It's the tiniest iron we've seen, but it's the perfect size for touch-ups. And at only 1.6 lbs, this iron is lightweight and easy to use. Plus, the steam is continuous. We love the storage bag that's also a resting pad. If you can use a computer mouse, you can use the Ovo!
Super small and lightweight
Great for travel
Best for small areas and light touch-ups
Best Steam Iron for Steaming
All-Temp Steam Iron
Black + Decker
amazon.com
$47.74
The Black & Decker All-Temp Steam Digital Iron Model D6000 produced steam on all temperature settings, even low ones like acrylic and nylon. Other features include spray, vertical steam, auto shutoff, and English, French, and Spanish digital display. Another bonus: The controls are super easy to see and there's no pesky dial to fiddle with here. Simply press the buttons on either side of the electronic display to scroll through the easy-to-read settings and symbols.  
Digital fabric and temperature selector
Comfort grip handle
Bulkier design than others
Eight-foot cord is shorter than some
Best Smart Steam Iron
Velocity 230IR Steam Iron
Reliable
amazon.com
$168.99
A unique steam sensor in the Reliable Velocity 230IR's handle makes this iron fun (and easy!) to use. It uses touch sensor technology to release steam as soon as you grasp the handle. We tested its younger sister, the 200IR, which is virtually identical to this model and found it comfortable to hold and its steam production very powerful. There's even an option to override the automatic shut-off feature, so you can steam away on longer projects if you need to without constantly having to move or readjust the iron to restart it. The Reliable's anodized aluminum (think cookware!) soleplate glides smoothly over fabrics and is also very easy to wipe clean. 
Steams by touching the handle
Has a steam generator inside to produce more steam
Best Steam Iron for Beginners
Steam Care One Smart Temperature Iron
Rowenta
bloomingdales.com
$69.99
With no temperature dial, the Rowenta Steam Care Steam Iron DW3180 is designed to iron all fabrics at optimal heat. With its internal multi-layer design, it's able to produce super-hot steam without making the soleplate hotter, so fabrics are less likely to scorch. The transparent water tank also makes it easy to see when you're in need of a refill, and the fine-mist spray feature is perfect for those wrinkles that just won't budge. 
Easy to use
No fabric settings to fuss with
Large buttons
Eight-foot cord is shorter than some
Best Steam Iron for Pros
Perfect Steam Station
Rowenta
amazon.com
$359.94
$225.99 (37% off)
If you iron in batches or do a lot of sewing or quilting, a steam station might be for you. With no automatic shutoff, it's perfect for nonstop use. The Rowenta Perfect Steam Station DG8520 delivered powerful steam blasts and smoothed fabrics from silk to heavy cotton. Also, it has an eco-mode, allowing you to reduce its energy consumption by up to 20%.
Produces more and longer lasting steam than a traditional iron
Great for quilters and sewers
Takes up space on the ironing board
Difficult to store
Best Ironing System
FashionMaster Ironing System
Miele
amazon.com
$2,499.00
Make an investment in Miele's new ironing system, and save big by skipping the dry cleaner for items that need just a refresh. The all-in-one station delivers high-quality results with powerful steam that helps smooth everything from blouses to jackets. 
With the Miele, you have an ironing board, a steamer, and an iron all rolled into one. The board itself has an air inflation (for gentle pressing of delicates) and suction function (for tougher jobs).  All pieces store neatly inside and with its super large water tank, it really can take care of all your ironing needs. Our Cleaning Lab appreciated how it all folds and can be wheeled away for storage
Includes an iron and garment steamer
Board inflates and draws in air for more professional ironing results
Folds and moves on wheels
Takes up storage space
Pricey
Heavy
This content is created and maintained by a third party, and imported onto this page to help users provide their email addresses. You may be able to find more information about this and similar content at piano.io
Advertisement – Continue Reading Below